Check out my American Ninja Warrior 10 Submission Video: 
The ANW Goal
My name is Wayne Burns and many of you know this is my 3rd year to apply for American Ninja Warrior and calls have gone out for ANW in our area aaaand drum roll please… NO CALL for me this year. Even though I was momentarily disappointed about not getting THE CALL, it really is ok because I know that I can learn from every situation, every victory, every problem, every obstacle and even every disappointment. AND I can rest in God's plan for my journey (this was not in the plan this year).  I did want to share what I have learned through this process… 
818 Area Code
This year we DID get A CALL from the infamous ANW (818) area code we just did not THE CALL…
Let me set the stage… last month, I was giving one of my boys a stern "talking to" when my phone rang but I did not answer right away. It was a California (818) area code which is the area code what you are looking to receive a call from if you have submitted an application for ANW. My wife said "uhhh… Wayne? Wayne…WAYNE!! You may want to answer that.  It could be ANW!" So I did and it was!
A casting producer from the show was calling to get some more information about our story. I was beside my self excited. I answered the questions and that was that, BUT it sparked something in me that said: this may really happen this year! I may get my opportunity to actually be on the show!

Training With a Goal the Mind

We have been super busy this year running our family owned small business, Fortified Fitness and designing and building Fortified Warrior Ninja Obstacle Training (literally from scratch).  At that point I had been building obstacles for our new gym location and I was "lightly" training. Also my nutrition was not as good as it could be and I had been slowing putting on a little weight which does not help with hanging endurance on obstacles. I was not being as intentional as I could be. So by taking a quick personal inventory of my current state I knew I had to change a few things. I needed to apply some intentional disciplines to my days to BE READY physically if I did get the call. 

Intentional Fortified Warrior Training
FUEL – So the first thing I did was use MyFitnessPal and started tracking my food / "FUEL" intake. Not only did I need to lose some extra weight but also to make sure I was getting quality fuel, right amounts of carbs, proteins, and fats. This way my body would have more energy and could build strength with every workout. 
TRAINING – Then I looked at my training. I know most of the obstacles on ANW are upper body focused which means hanging strength and endurance are key. So I implemented a Daily 100s Challenge: 100 pull-ups, presses, lower body and core. I also started a daily run challenge (at least 2 mile run per day) that would slowly and consistently build that focused strength. 
SPIRITUAL CONNECTION – As a Christ-Follower and with the BIG picture in mind, my training, nutrition, and intentional living has little to do with a goal or TV show but everything to do with living a WARRIOR READY lifestyle. To continually train to BE READY each day for no matter whatever comes. Sometimes it takes a goal, a problem, an obstacle to overcome, a race, an event, or even a TV show to shift us into gear. These small goals give us something to work towards, it gives us tangible mile markers to show our progress. I also love to teach and share and challenge others to a Warrior Ready lifestyle which is what we do at Fortified Fitness!
The Rusults?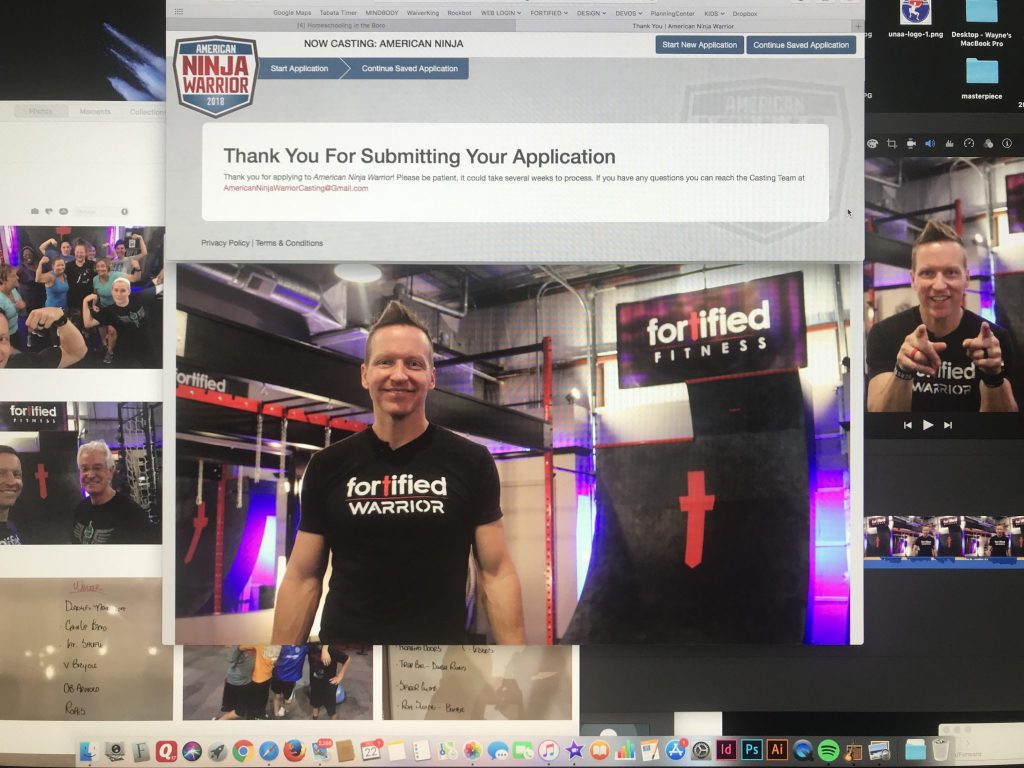 You may ask: Is the new training working? I feel like I'm in the best shape of my life at 50 years old. My pull-up PR is 33 strict pull-ups in a row!
I believe the daily disciplines work because God has created our bodies with IF/THEN potential to respond to proper training and nutrition! Choose some attainable goals that you want to achieve, set some daily non-negotiables to reach those goals. Apply basic truths to today, then do it again tomorrow, step by step until you meet your goal whether it's to build more strength or to loose some extra weight, you are capable of WAY more than you think!
Even though I didn't get THE CALL to be on the show I do have the incredible opportunity to use my training to serve as a ANW Course Tester for the 2nd year – so we will see what this 50 year old can do on the ANW course after all!