UPCOMING COMPETITIONS

:
UNAA REGIONAL Ninja Warrior Competition –

JUNE 4, 2022
>

REGISTER HERE

– scroll down for info
---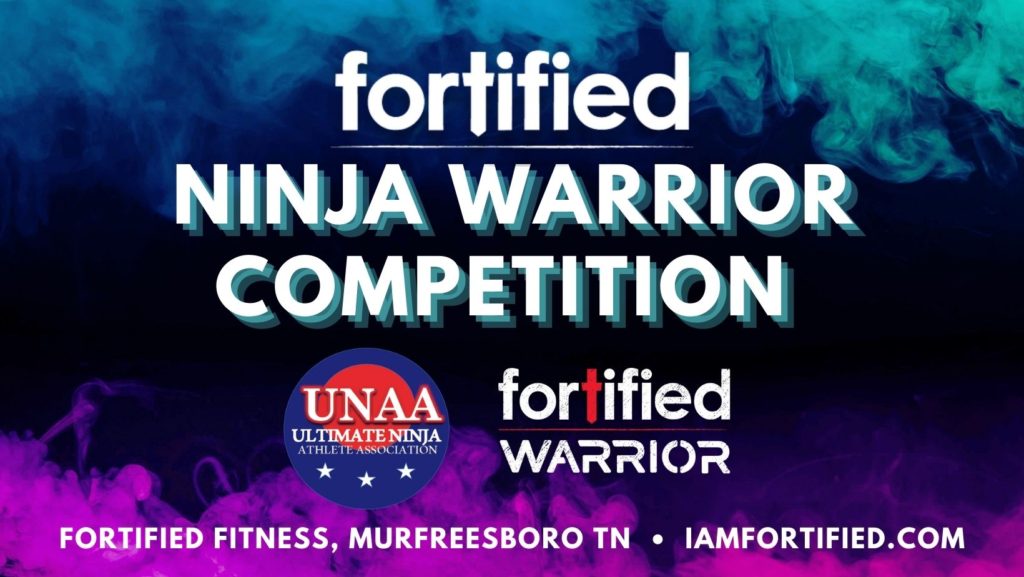 UNAA REGIONAL
JUNE 4, 2022
If you have qualified for UNAA Regionals join us for this will be a super fun & challenging event. The Ultimate Ninja Athlete Association (UNAA) is one of the largest and most established ninja warrior style obstacle course racing leagues in the world. We're excited to be hosting a Season 7 Regional Qualifier at Fortified Fitness.
---
PRE-COMPETITION OPEN GYM
Join us on Friday, June 3 for a Competitor Open Gym – 6:30-8:30pm
---
PLEASE NOTE

:
In order to compete you must qualify for UNAA Regionals at a UNAA Area Competition
or at UNAA World Athlete Games. Join us for UNAA World Ninja Athlete Games on March 6, 2022 at Fortified Fitness.
This UNAA Regional Cometition is a Qualifier for UNAA WORLD SERIES CHAMPIONSHIP FINALS July 21-23, 2022 –

Orleans Arena, Las Vegas NV.
---
COMPETITION CLASSES:

PLEASE NOTE: Start time is approximate and subject to change depending on number of competitors.
8:00am-10:00pm (check in 7:30am) – 7 & Under Boys & Girls (age 6-7)

10:00am-12:00pm (check in 9:30am) – 9 & Under Boys & Girls

12:00-2:00pm (check in 11:30am) – 11 & Under Boys & Girls

2:00-4:00pm (check in 1:30pm) – 13 & Under Boys & Girls

4:00-6:00pm (check in 3:30pm) – 15 & Under Boys & Girls

6:00pm (check in 4:30pm) – Amateur Men & Women (ages 16 to Adult)

7:00pm (check in 4:30pm) – Pro Men & Women (ages 16 – Adult)
---
Competition Details
ALL COMPETITORS MUST SIGN

LIABILITY WAIVER

TO COMPETE



Start time is approximate and subject to change.

ON-TIME check-in required to participate.

We have a competitor limit cap per class – Register Early – first come first serve.

We are a chalk free facility –

LIQUID CHALK ONLY permitted



UNAA membership included in registration – UNAA Area Qualification enables you to compete at UNAA Regional to attempt to qualify for UNAA Finals

We will offer both Fortified Competition Trophies for Top 3 and UNAA League Placements according to UNAA rules

We will follow Competition Rules set by Ultimate Ninja Athletic Association (UNAA)
---
Competition Fees
$65 – per participant – Registration (Registration CAPS may apply)
---
*Registration includes Friday, Pre-Comp Open Gym on June 3, 2022 for all participants
---
---