Wayne Burns
Fortified Owner, Personal Trainer, Group Fitness Trainer
Owner & Founder of Fortified Fitness with wife Stephanie Burns. 

Fortified Fitness was founded in 2013 – We are a family owned, local small business. Thank you for your support.

Owner & Founder of Kingdom Custom Cabinetry with wife Steph Burns

Experience

Personal Trainer & 

Group Trainer since 2013

Sportsmetrics Certified Trainer

RRCA Certified Run Coach

Fun Facts

American Ninja Warrior Course Tester since 2017 

Seminar Speaker, Presenter & Curriculum Writer

Occasional

 Guest Radio Host on Moody Radio

Worship Leader – guitar & vocals for over 20 years

Over 25 years of carpentry experience – framing, custom trim carpentry & custom cabinet builder (Fortified obstacle rigs and obstacles designed and built by Wayne as well as Fortified Fitness Studio build out)
Family

Married to business parter, Stephanie Burns, since 1998 and dad to three amazing boys! 

We have a huge heart for fostering and adoption – God built our family through the amazing gift of adoption.
Contact Wayne: 615-202-2486 / email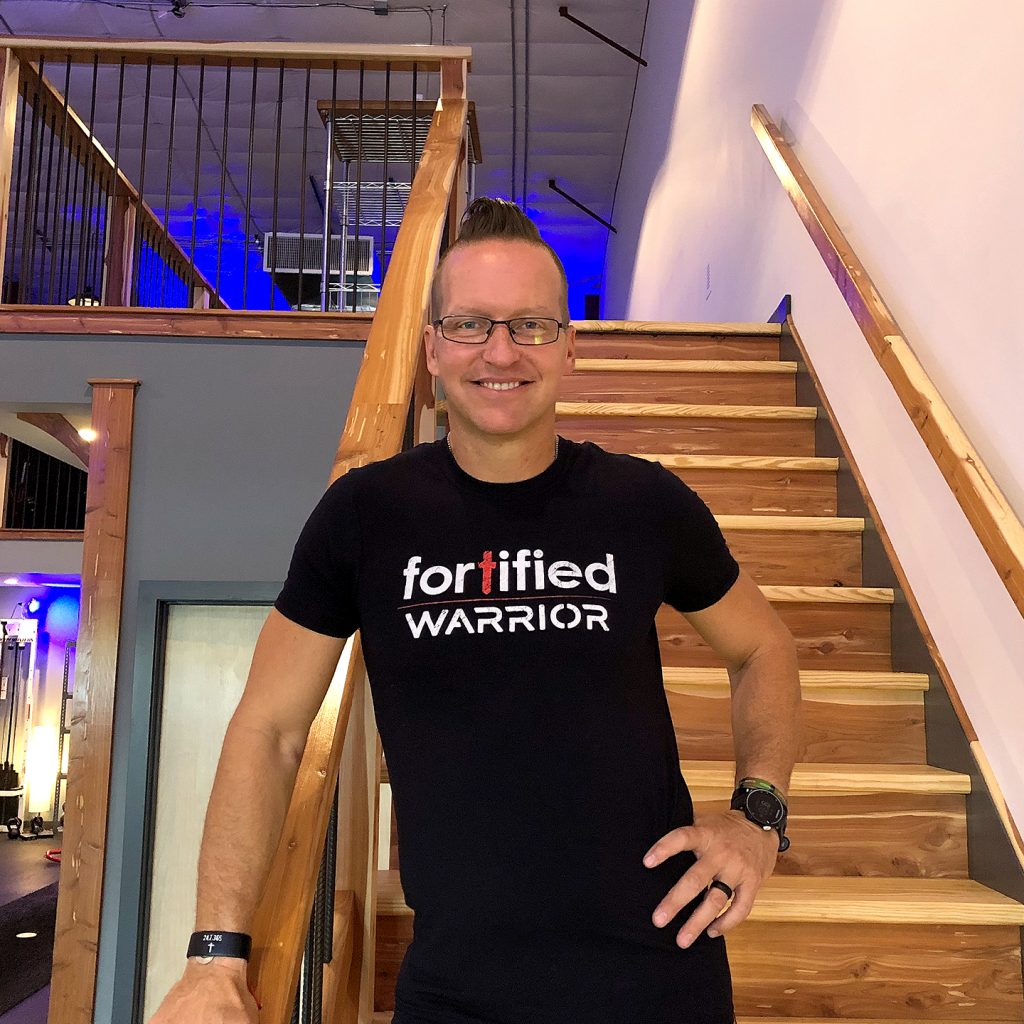 Wayne & Stephanie Burns founded Fortified Fitness in 2013 out of a deep calling from the Lord to walk with, encourage and inspire people to reach their God-given potential and live life to the full. 
After attending a family ninja warrior clinic, they were inspired to build a ninja warrior program to include all ages in 2017 in addition to the fitness studio. 
Currently Fortified Fitness includes a 2400 sq. ft. private fitness studio as well as a 6,000 sq. ft. ninja warrior facility and runs programs for ages 3 & up – Fitness for the whole family!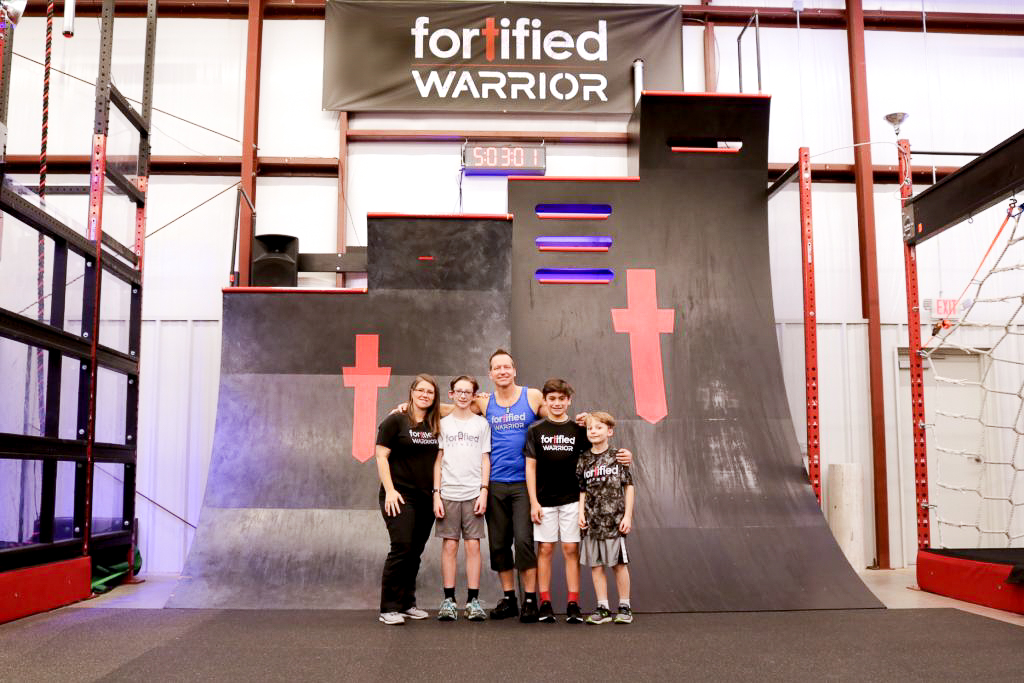 Fred Mindach
Operations Manager, Personal & Group Fitness Trainer, Functional Screening Coach, Life Coach
Worked at Fortified Fitness since 2017

Certifications

ACE Certified Trainer

StrongFirst Level II Instructor Certification

Precision Nutrition Coach

Functional Movement Screen Coach

Experience:

Personal Trainer with the Institute of Human Performance
Served in United States Navy as an Aviation Structural Mechanic and Hydraulicsman. 
Became a Second Class Petty Officer and was the supervisor for airframes in the Phase Division where I supported wartime missions after 9/11.

 

Personal Training Director at Bally Total Fitness in California

Led Physical Fitness Program for the Navy.

 

During my travels I have been able to learn from some of the top strength coaches in the world, racking up many certifications in the process. 
My mission now is to help people realize how awesome they were created and to work from there strengths instead of working from what they think are negatives.  I want people to realize their full potential both physically and spiritually instead of living under a self limiting title that either they or those around them have given them.
Family: When I am not working I am training keeping my strength skills fine tuned and spending time with my awesome wife and 4 kids!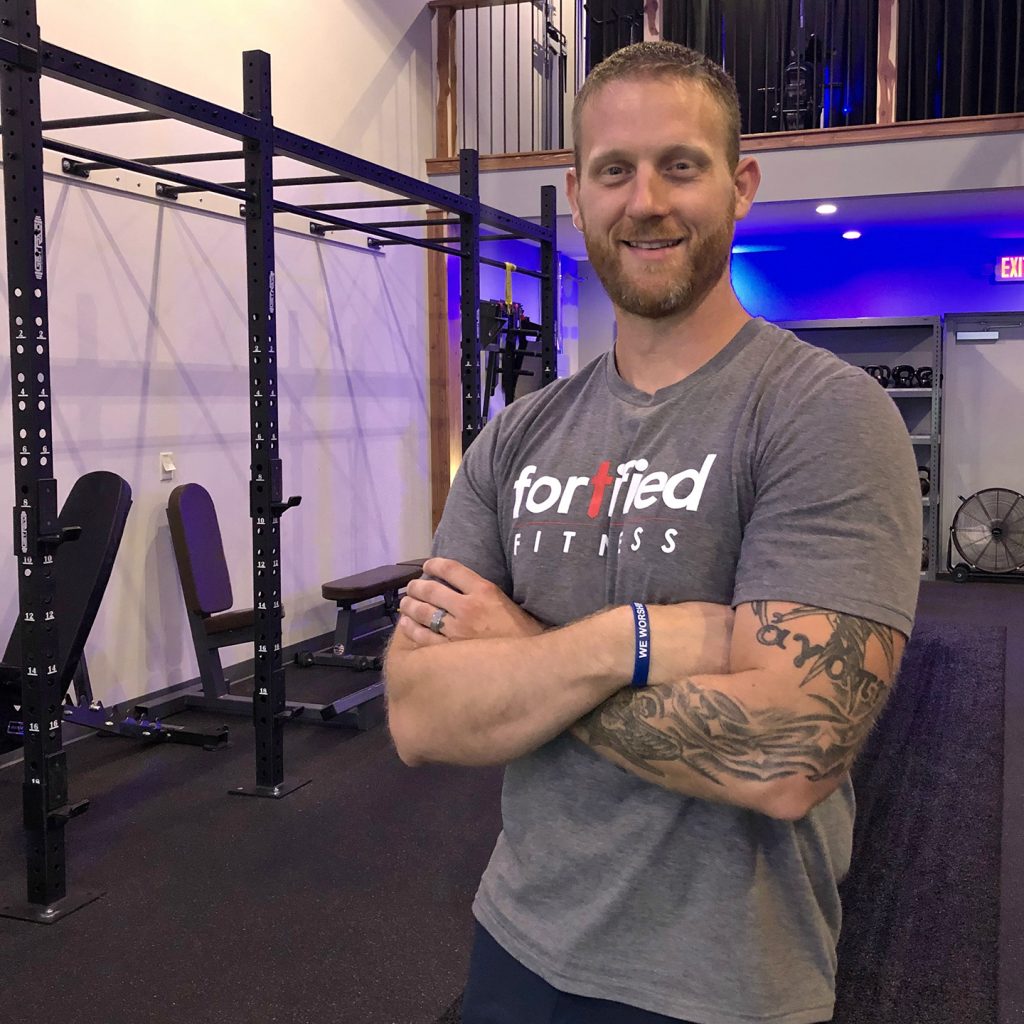 Janice Quick
HR Manager,
Fitness Trainer, Events Coordinator
Worked at Fortified Fitness since 2016

Certifications

Action Personal Training Certification

AFAA Group Fitness Certification

WERQ Cardio Dance Certification & Zumba certification

CPR / First Aid Certified

FUN Facts

Completed half-marathons & Spartan Races & Warrior Dashes

loves the outdoors (camping, hiking, canoeing, ATV riding, OCR racing)

Loves dancing and rock climbing

Is a trained cake decorator

Family

Janice is a military wife and has been for over 20 years and thus is a big supporter and advocate for military/military families. 

Proud mom and grandmother

Her biggest accomplishment = her kids 
Personal motto – "It's never too late to become what you might have been."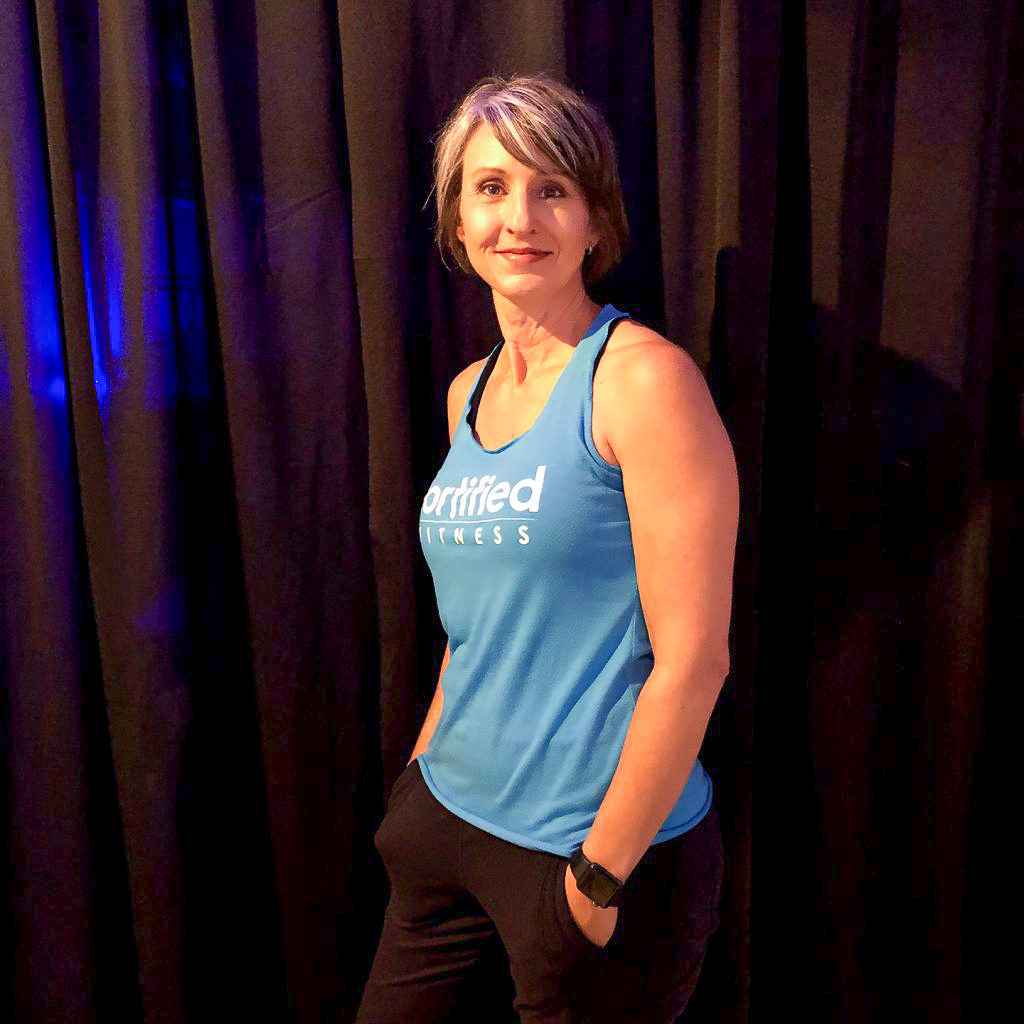 Karman Selby
Head Ninja Warrior Coach, Ninja Warrior Program Director, Group Fitness Trainer
Certifications & Education

Former ACSM personal trainer (4 yrs)

RRCA Run Coach

 

TRX Level 1

 

Experience

Ninja Coach since 2017

Competed on American Ninja Warrior Season 13

Bachelors in Anthropology with minor in Russian from Kansas Sate University

Fun Facts

I'm a full-time stay-at-home dad.

I do woodworking/ pyrography as a hobby.

I love basketball, running, and ultimate frisbee.

 

Family

I married my lovely wife, Hannah, in 2014. Our boys, Samuel and Elliot, joined us in 2018 and 2020.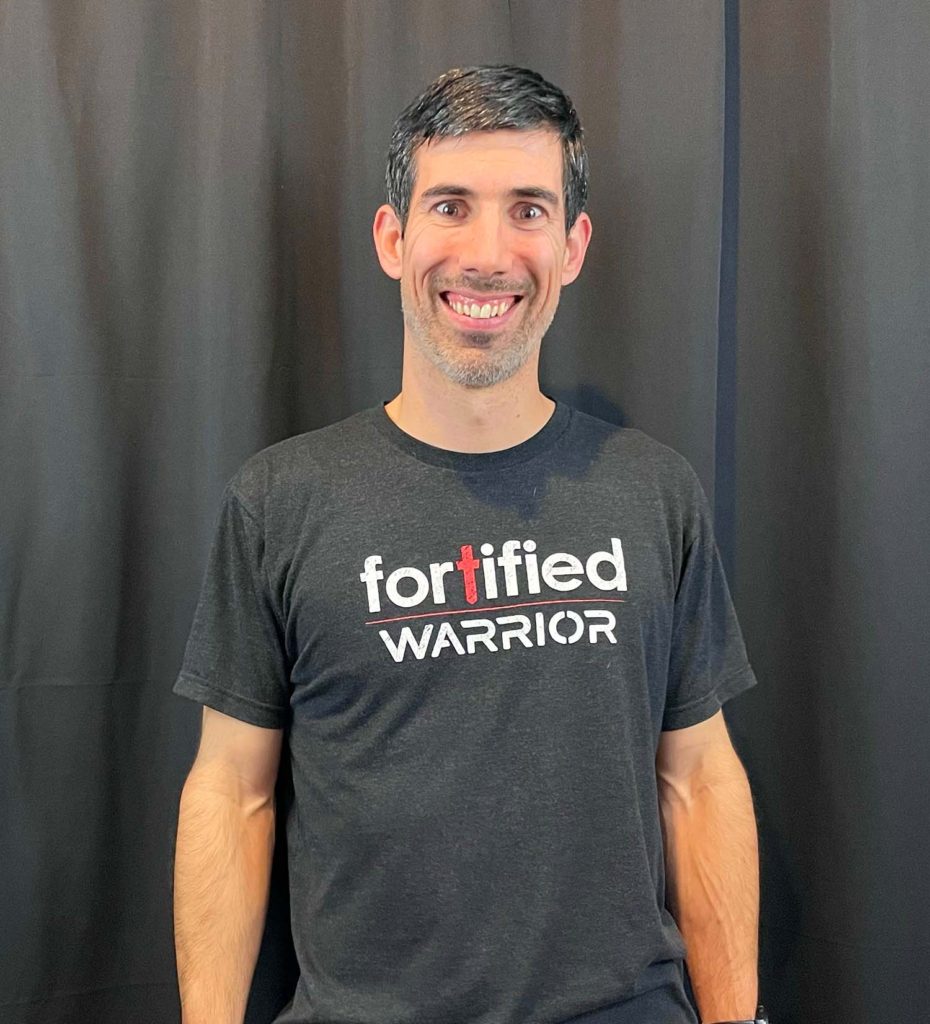 Michelle Austin
Personal Fitness Trainer, Group Fitness Trainer, Run Coach
Worked at Fortified Fitness since 2014
Education & Certifications

Bachelors of Science in Communication Disorders from MTSU with a double minor in Psychology & Special Education

Masters of Science Degree in Speech Language pathology from TSU

American Council on Exercise (ACE) certified personal Trainer

RRCA Certified Run Coach

CPR/First Aid Certified American Heart Association & Red Cross

 

It fills my heart with true joy to be everyones cheerleader. I desire to help each client realize their full potential and to challenge them to step outside of their comfort zones as they learn to be the best versions of themselves as possible.

Life Verses: Exodus 14:14, Proverbs 27:17, Isaiah 61:1-3
Fun Facts/Hobbies: 

Identical Twin

Pastors wife

"Foodie" & Coffee Snob

Loves to travel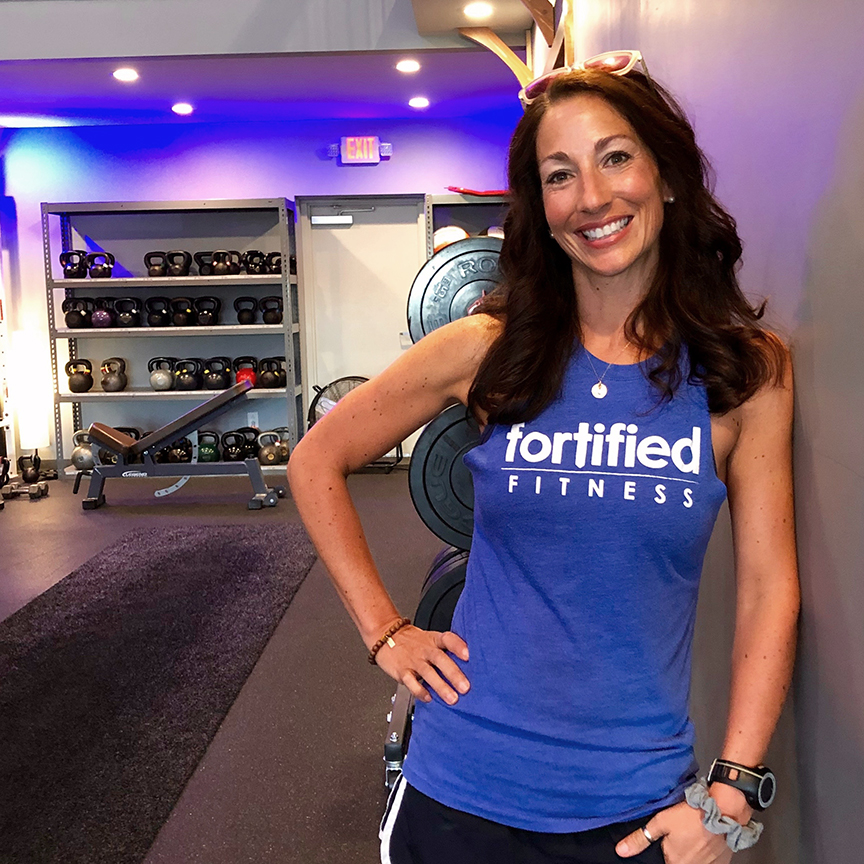 Will Holliday
Personal Fitness Trainer, Group Fitness Trainer
Education & Certifications

Bachelors of Science in Health & Human Performance / Applied Exercise Science – Austin Peay State University

NCSF Certified Personal Trainer

NASM Certified Personal Trainer

CPR/First Aid Certified 

 

Assistant Coach: Football at Rockvale High School, Basketball at Whitworthy Buchanan Middle and Track & Field at Rockvale High School.
Loves to teach people/athletes how to 

live

 healthy lifestyle and reach 

their

 goals while having fun. Loves to work with the next generation!

Rutherford County Substitute Teacher

Motivations: God, his wife and people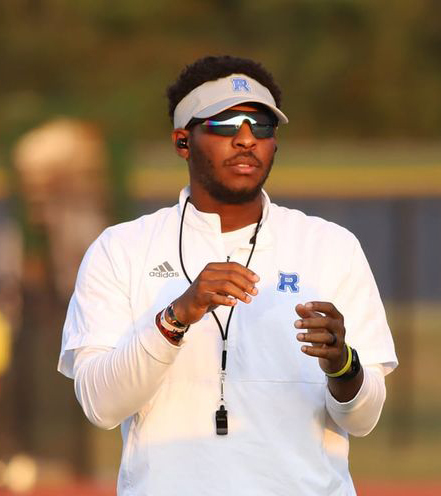 Callan Austin
Aerial Silks & Fitness Coach, Aerial Silks Program Director, Event Leader
Worked at Fortified since 2020
Hometown: Hendersonville TN
Education & Experience:

Nutrition Major at MTSU

3 Years of Aerial Arts Training

Favorite exercise: Jumping Squats
Fun Facts:

Established Murfreesboro's first silks program! 

I was assistant director of a dance program for 2 years

 

I LOVE dogs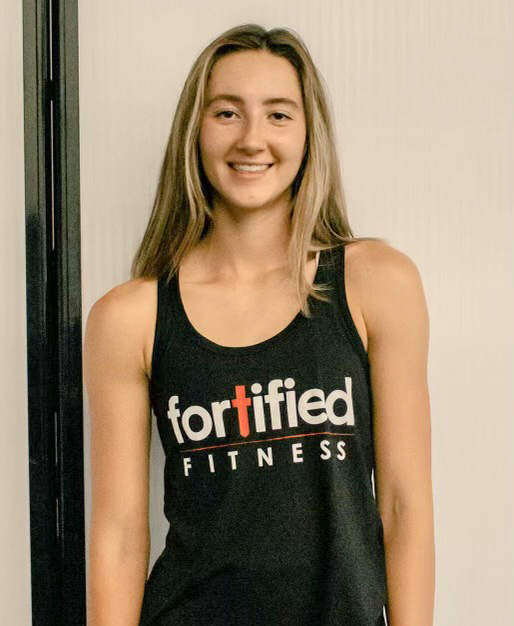 Anna Bobo
Aerial Silks Coach & Ninja Warrior Coach
Worked at Fortified Fitness since November 2020
Hometown: Lascassas, TN
Accomplishments:

D1 soccer state champion

Pull-up PR: 23

FUN Facts:

Favorite ninja obstacle: pegs/hooks

Favorite aerial silks move: all the drops!

Played soccer for 12 years (10 years competitive)

I have been in 5 different countries

Mission work is my passion. I've been to India 3 times for mission work and I pray to someday go to Uganda as well.

I would rather read a book instead of watch a movie

Loves: Jesus, reading, studying languages, traveling, ninja warrior, aerial silks, weight training, spending time with friends, baking/cooking, adventures,
I am a photographer –  captureHISart photography – portrait and family photographer serving from Middle and East Tennessee – WEBSITE: capturehisartphotography.com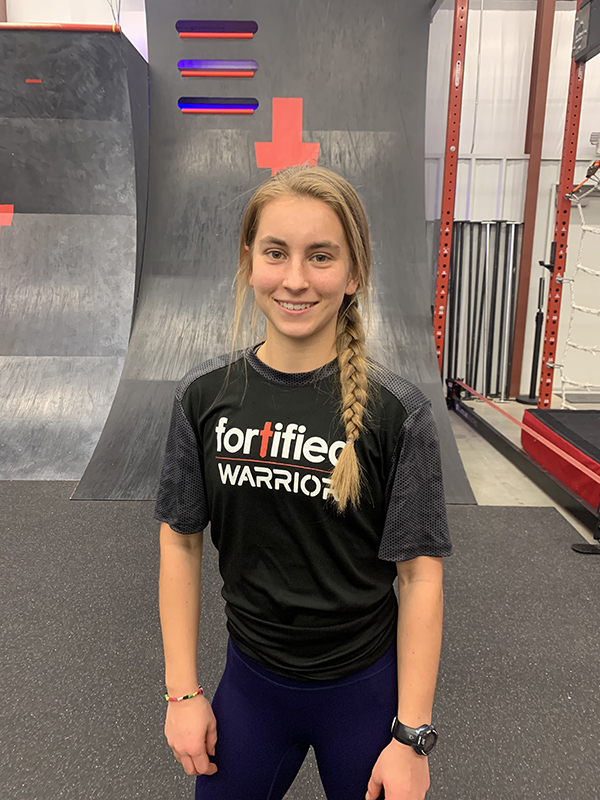 Jules Craddock
Group Fitness Trainer
Worked at Fortified Fitness since 2017

Certifications & Education

StrongFirst instructor

NSCA and FMS

Has a Bachelor's Degree from MTSU in Finance

Experience:

Has over 8 years experience in Professional Fitness Training

Family – Married and has 3 kids and a grand-baby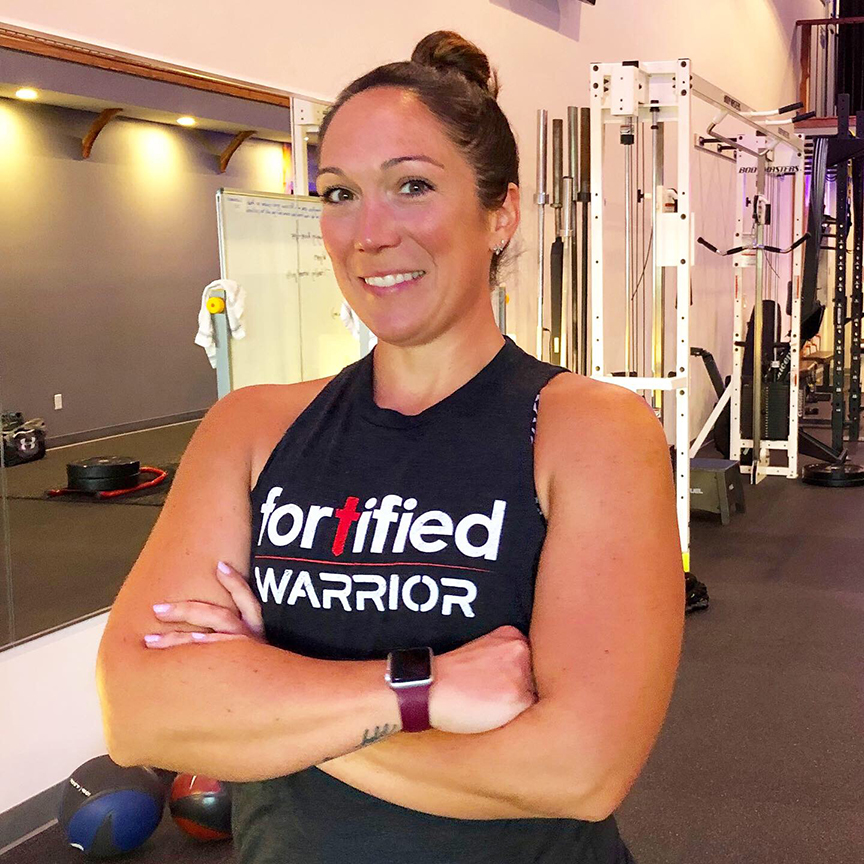 Rachel Beth Drake
Ninja Warrior Coach
Fun Facts

Trained and Worked at Fortified Fitness since 2017

Hometown:

 

Lascassas, TN 

Weight training and ninja warrior training 

Participated in rock climbing for 3 years 

Accomplishments

Multiple time NNL and UNAA world finalist
Deadhang max 47 minutes
100 pull ups without touching the ground
Competed on American Ninja Warrior 2021

Things I Enjoy

Time with family and friends, Bible studies, roller coasters, Drawing, making crafts, working out, hiking, chocolate chip cookies,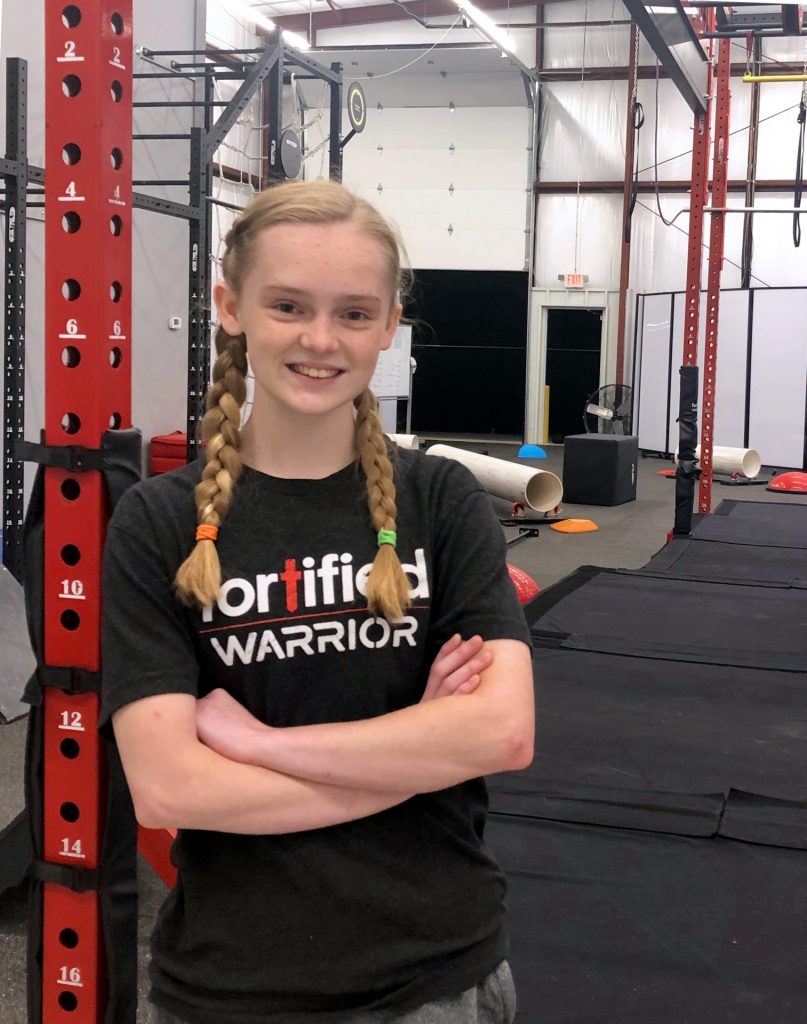 Rachel Brown
Ninja Warrior Coach
Trained & Worked at Fortified Fitness since 2018

Has trained for Ninja Warrior for since 2015

Accomplishments

Conquered her first 14 ft warped wall at age 12

Has competed in Adult Pro division since she was 12 

NNL Season 2 Top finalist – 2nd Place – Women's Pro Division

She was the top youth female in UNAA Finals Season 1 & 2

She placed in top 5 in Pro Women at UNAA Finals – Season 3

Fun Facts

Favorite Obstacle: Warped Wall – to date she has conquered a 16ft warped

She has trained Martial Arts and holds a Black Belt

She has enjoyed gymnastics, power tumbling, basketball, track and flag football

 wall and is working towards an 18 ft warped wall.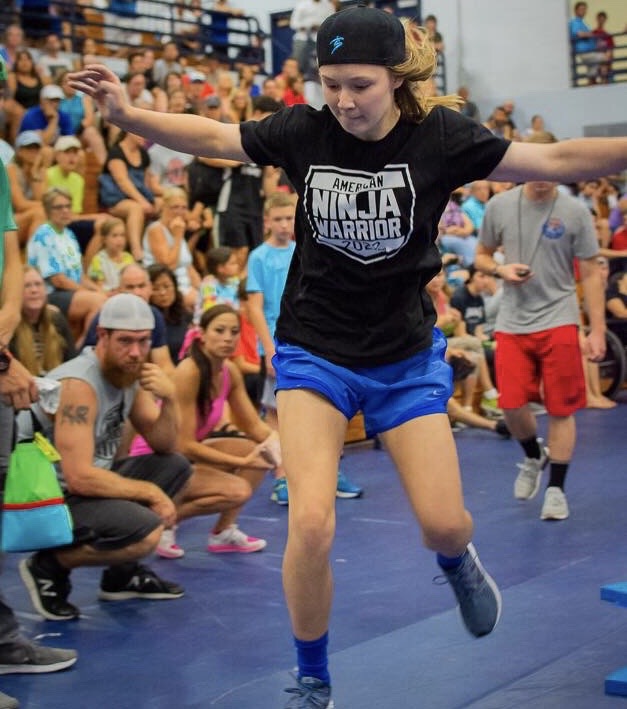 Caleb Brown
Ninja Warrior Coach
Trained and worked at Fortified Fitness since 2017

Hometown:

Murfreesboro TN

Accomplishments

Qualified for TOP 4 in 11-12yr olds on American Ninja Warrior Jr – Season 1 

Participated in American Ninja Warrior Jr – Season 2

Placed 3rd in 13-17 years – Savage Race Spring 2019

Dead Hang record: 23 minutes on rings

Loves

 Jesus, climbing, photography, camping, ninja warrior, time with friends, reading and sweets.   
Benjamin Drake
Ninja Warrior Coach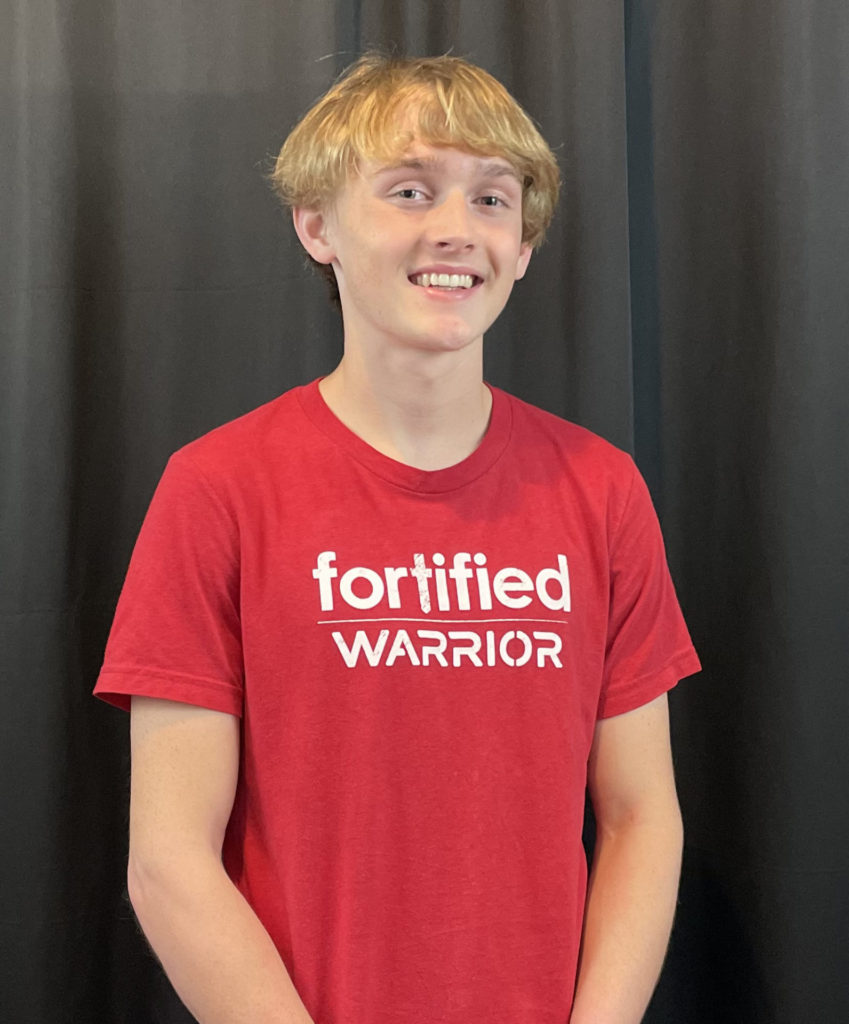 Brandon Mayhew
Ninja Warrior Coach
I Graduated from MTSU December 2020 (Audio Production)

l am a DJ/Artist/Producer

I am From Hendersonville, Tennessee

I have lived in Murfreesboro for 3 years

I've played multiple sports including baseball, soccer, basketball, cross-country, football & ninja warrior.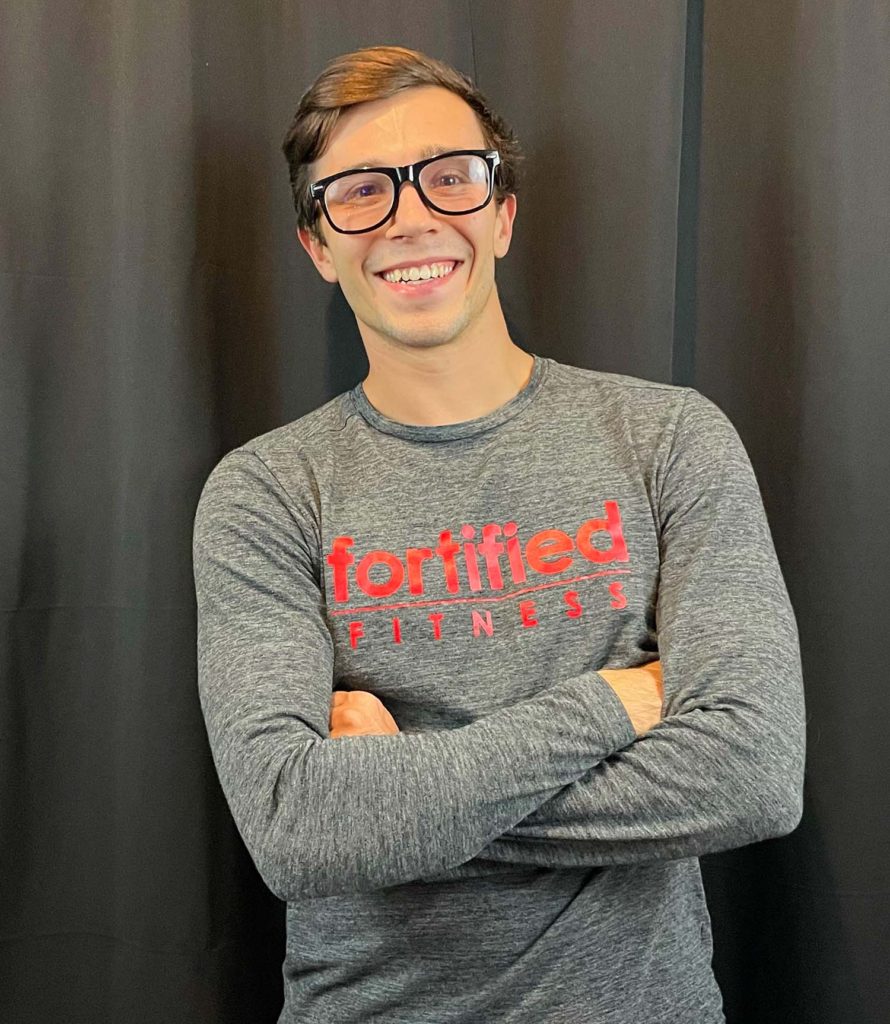 Josh Burns
Ninja Warrior Coach
Son of Wayne & Stephanie Burns, Fortified Fitness Owners

Helped build out Fortified Fitness studio & ninja rig and obstacles with his family

Attends Siegel High School with Health Science Career Pathway

Member of Siegel Cross Country – Region Champions in 2020-21

Sports: Cross Country, Soccer, Basketball
Longest Run Streak: ran every day 2018-2020 – 1000 days in a row