I'm so proud of Brenda Wilson and the incredible progress she has made in less than a year at Fortified Fitness! She is working hard and it shows!! She is a flourishing example of how age is just a number!
She talked to me over a year ago at church about wanting to implement some change in her life to become more active and strong. Since then, I have watched her consistently commit to and invest in her health. She has been an inspiration to the Ladies Group Class that she attends weekly, and to me personally. She is always working hard and always encouraging others!
The text below is written by Brenda from a Facebook post after seeing herself in video jumping rope (video is also below). By the way when she first came to Fortified Fitness, jumping rope was not even an option.  I have witnessed her gain strength and endurance, and she has become more self-confident and is even brave enough to try new things.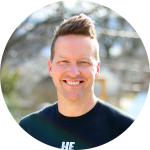 Brenda does a great job of living her life out loud in hopes to encourage others to strive for and reach their own potential. Way to go "Boom Boom Brenda!"

(also check out the other video of her slamming the med ball below – this is why we call her "Boom, Boom Brenda!"
Wayne Burns,
Fortified Fitness Trainer
---
[vimeography id="2″]

Brenda's Post:
I just saw Wayne Burns' video of me jumping rope. This post is about change and my health…
I can't control whether I get cancer again but I CAN control the choices I make about my diet and exercise … Fortified Fitness was the answer for me!!!
I was very intimated about going because of my age… Age is just a number…
But with the expertise of Wayne Burns and Karman Shelby, I am living intentional one day at a time..
They love to see lives being changed at Fortified.
In my experience, exercise has been the answer to sooooo many health issues… My joints are stronger, my stamina is better, not to mention how great I feel!!!
Please consider doing something for yourself that will help you live a healthier lifestyle… I LOVE all the ladies in Fortified's Group Circuit Class.. We are family!! Be spiritually encouraged as you step out in Faith… I will be more than glad to go with you to you first visit.
Come join me…
Brenda Wilson
Tuesday / Thursday – 4:30pm Ladies Group Circuit
[metaslider id=1584]