I was quickly approaching the "Big 40" and was ready to make a change. The grandfather I never knew had passed away of a heart attack at 55. It's okay to put yourself first, especially when it's your health.
Fortified Fitness is a safe, comfortable, non-intimidating place to make that change. To watch small changes become bigger ones. To be the better mom and wife so you can have the energy, strength, stamina, and endurance. Wayne Burns guides me through each exercise, to show, motivate and encourage.
Hey, getting out of your comfort zone is okay. I have lost 12 pounds since November 4th, 2015, my first day at Fortified Fitness! If you're ready to make a change Fortified Fitness is the place to be.
Allison Greer
Tuesday / Thursday – 8:30am Ladies Group Circuit
---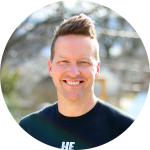 I am SO proud of Allison Greer!  She is an amazing example of someone who has applied God's safe boundaries to their "one day at a time" and the results are amazing! 12 lbs of excess fuel has been used by her body in 11 weeks – and that's even during the holidays! God's design always works!   – Wayne Burns