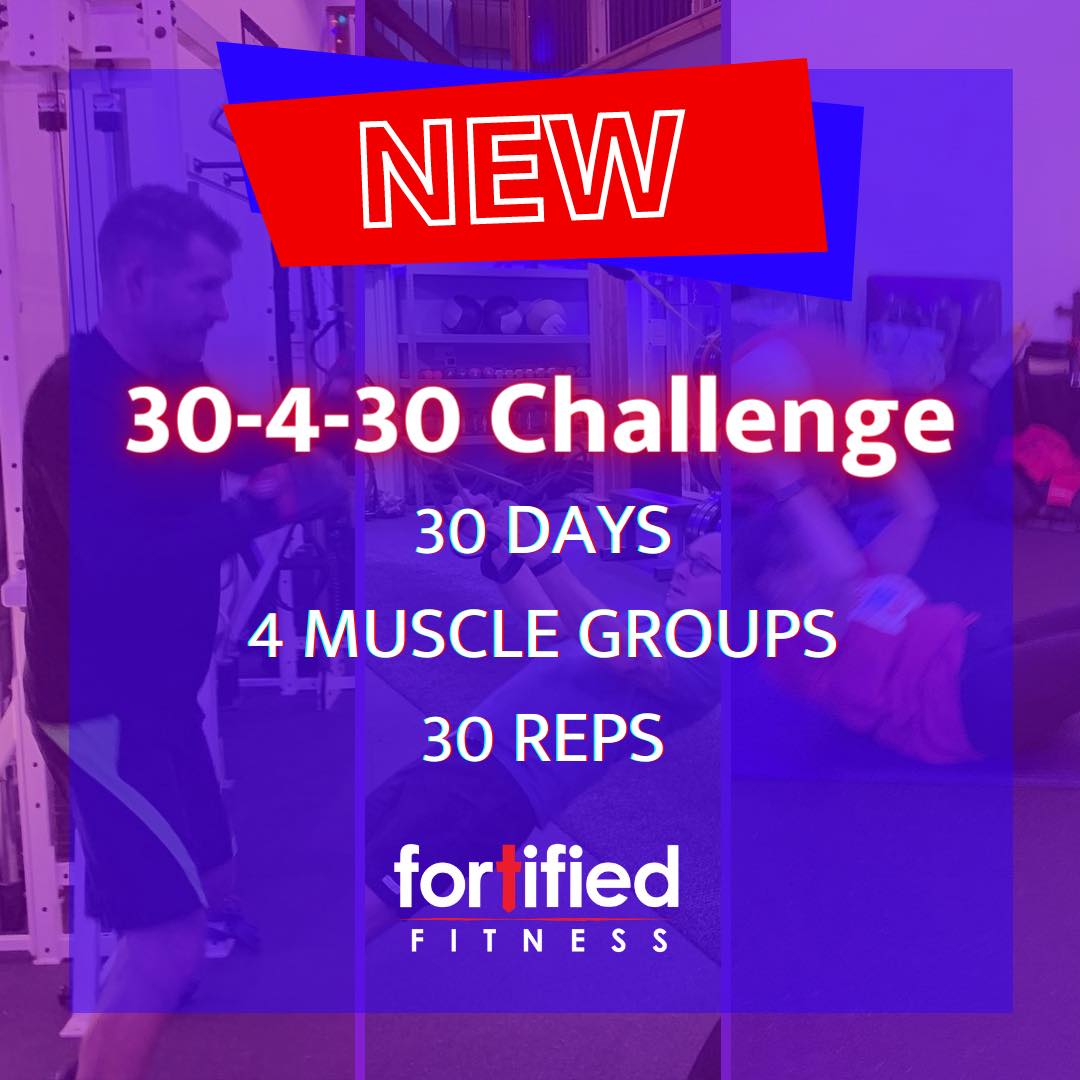 ‼️30 DAY CHALLENGE‼️

One of the best investments you can make in 2021 is in your health!! Join us for a 30 Day Fitness Challenge.

Some of you may remember this challenge from when we first started Fortified Fitness and we thought we'd throw it out there again!

Everyone is invited! We would love for you and your family to join us!! Start anytime and turn in your sheet at the end of your challenge for a certificate and the chance to win something!
30-4-30 CHALLENGE
30 DAY Challenge – Set a goal for 30 days but if you miss a day keep on going till you hit 30 days. This challenge is about creating a new habit of daily movement not perfection.
4 EXERCISES – push, pull, lower body, core –

SEE RESOURCE LIST BELOW

30 REPS At least 30 reps – 2 sets of 15 or 3 sets of 10 or 30 all at once)
CLICK HERE TO DOWNLOAD a tracking sheet for you that we are going to post right after this! Start today, tomorrow, or Monday (whenever works for you!) and let's move intentionally for 30 days!
PUSHES
push ups

– modified on knees

bench press

machine press

alternating overhead press – kettles / dumbbell / resistance band
skull crusher – dumbbells / resistance band
overhead thruster – squat with over head press – bar / kettle / dumbbell
bent over tricep extension – dumbbell / kettle / resistance band
tricep press down – resistance band

tricep dips
PULLS
upright rows – kettle / resistance band
bicep curl – kettle / dumbbell / resistance band
wiper curls – hold weight and move up/down nonstop motion
hammer curl – hold weight palms parallel to sides
renegade row – alternate weight pull in plank position (dumbbells)
bent over rows – dumbbell / kettle / resistance band
front raises – dumbbells / kettles / resistance band
lateral (side) raises – to side – dumbbells / kettle / resistance band

machine lat pull down

reverse fly – bent over lift arms out to sides (dumbbell / kettle / resistance band

pull ups or assisted pull ups

stability push ups / alternate push ups – on BOSU
reverse row – pull body up to bar
ABS / CORE
leg raise – lie on back raise legs
mountain climbers – can add furniture sliders on slick floor

mountain climber cross overs

band curl up – resistance band around feet lying down and roll body up
sit up / weighted sit up – kettle / dumbbell

bicycle crunches

v-sits

ab crunch – hands to knee / elbow to knee
ab sit up or crunch with cross punch
umpa – plank hold lifting alternate legs & arms
renegade row – alternate weight pull in plank position

plank with shoulder touches

plank slide – in and out with furniture sliders
supermans – face down lift / hold / release – hands and legs
reverse supermans – lay on back and lift legs and extended arms
anchored flutters – on back hold weight overhead and flutter feet
scissors – on back big flutters with feet
scissor crunches – lift legs higher
bird dogs – on hands & knees alternate pointing alternate hand/leg
russian twist – crunch and twist body – can add kettle or med ball
side plank pull through – can add dumbbell
plank jacks – jump hands and legs out and back
straight arm plank with jumps or steps – both legs out and in

side plank with leg lifts

plank roll outs – on furniture sliders or stability ball
swimmers – face down alternate hands and legs
inch worm walkouts – walk body out to plank position
crab crawls – crawl on hands and heals
lying side crunch – lay on back and roll knees to sides
vertical leg crunch – lift legs up off the ground with knees bent
LOWER BODY
mountain climbers – can add furniture sliders on slick floor
one legged deadlifts – can add furniture slider w/one leg on floor

mountain climber cross overs

donkey kicks

body weight squats – add kettle or dumbbell
step ups – add kettle or weight
lunges – add resistance band
walking lunges – add resistance band
reverse lunge – add resistance band
reverse lunge with twist – add med ball or kettle
thruster – squat and push weight overhead as you stand – with kettles or dumbbells
body weight squat – make sure you sit back keeping knees lined behind feet

wall squats

goblet squat – hold weight at chest – dumbbell / kettle
band abduction squats – step out to side – band
the flamingo – alternate hops on one foot

leg press machine

single-leg machine press

deadlift – bar / kettle / dumbbells / resistance band

single leg deadlift

star jumps – squat and jump hands & legs out & back

jump rope

jumping jacks add resistance band
flights of stairs – add weight

frog jumps

glute bridges

one-leg glue bridge – add stability ball