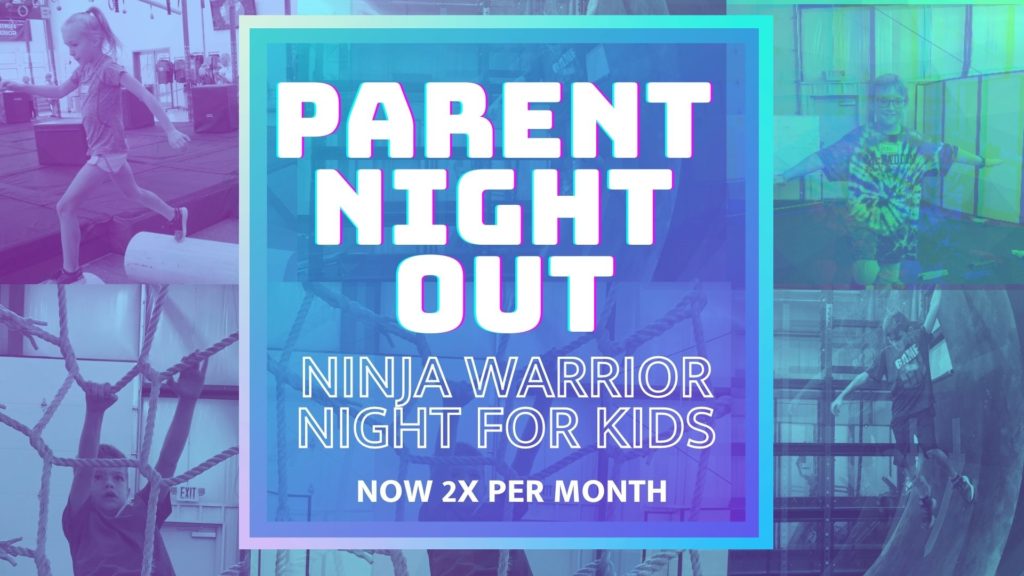 Parent's Night Out

//

 
Kids Ninja Warrior Night Out!
Upcoming Friday Events 6:30-10:00pm:
January 22, 2021
February 5, February 19,
March 12, March 26,
April 9, April 23,
May 7, May 21
Fortified Family Fitness – 203 Southpointe Court, Murfreesboro TN
---
---
Enjoy dinner and a night on the town! Rather than let your kids sit at home with a sitter, drop your kids off at Fortified Fitness and give your kids a Ninja Warrior Night Out! Go out on a date, get some time to yourself, run some much needed errands!
---
Kid's Night Out & Pizza Dinner
Make plans to join us each month for our Parents Night Out!  Your kids can expect to enjoy a night filled with Ninja Warrior Open Gym, Games & Activities, Pizza, and more! We will provide a water with their pizza but feel free to send additional water with your children (no sodas please). We also offer additional waters and Gatorade for sale on site. We also offer filtered water from our water fountain! Be sure your kids are wearing closed toed athletic shoes and comfortable clothes.
FOR KIDS: Ages 5 and up – (must have completed liability waiver to participate) 
DINNER: Pizza Dinner and 1 Water Bottle will be provided for your child.

FUN:

Ninja Warrior Free Play (open gym), Group Games and Challenges, and activities.
WATCH: American Ninja Warrior Jr Episodes – They can watch and then be a ninja warrior themselves!
PICK UP: You can pick your child up at anytime before 10:00pm.
---
PRICES:
$35 for the first child
$65 for each additional sibling
$85 family max
10% discount for Fortified Fitness Auto Renew Members
Call for more information contact Wayne Burns –  615-202-2486
My Account
Parent's Night Out / Kids Ninja Warrior Night Out!


<< Previous
|
Today
|
Next >>
---
---
 Parent's Night Out X2 per month / Dates open for registration:
Sept 18
Oct 2  -&- Oct 16 
Nov 6  -&- Nov 20
Dec 4  -&-  Dec 18