Calling All Fortified Warriors! We will be participating in Tourette Association's Virtual Awareness Walk to benefit the Tourette Association of America again this year!
---
Support a Fortified Warrior:
WE LOVE BROOKS!!! He is a super hard working and determined WARRIOR in TRAINING! He has persevered in his goals, overcoming obstacle after obstacle at Fortified! He has made amazing progress and encourages so many around him so let's support him!! 
Brooks, was diagnosed with Tourette at age 4. He experiences varying degrees of motor and verbal tics on any given day. Additionally, he is learning to cope with the challenges presented by his co-occurring conditions. By DONATING and/or JOINING US TO WALK, you too will be fighting with Brooks and us in an effort to bring awareness about Tourette Syndrome to the community as a whole, and raise funds in the process for more research and education.
MAY 19, 2019 – 1PM
Join Brooks' Team!
University School of Nashville – River Campus
1200 County Hospital Rd, Nashville, TN 37218
Go to fortifiedwarrior.com to find link to register!
DIRECT LINK to Brooks' Team: http://getinvolved.tourette.org/site/TR…
Proceeds go to the Tourette Association of America. We know Jesus is working His incredible plan for Brooks. And somehow, Tourette Syndrome is a part of that. You can be a part of that plan, too! Walk with us, and show Brooks and thousands of other kids and adults that you're fighting with them for education and a cure!
Help us spread the word!
more about Tourette syndrome
Tourette is part of a spectrum of hereditary, childhood-onset, neurodevelopmental conditions referred to as Tic Disorders. These conditions affect both children and adults, causing them to make sudden, uncontrollable movements and/or sounds called tics (e.g. head bobbing, arm jerking, shoulder shrugging and grunting). Non-tic features, such as Obsessive Compulsive Disorder (OCD), Attention Deficit Hyperactivity Disorder (ADHD) and learning difficulties, often develop in affected individuals. Symptoms in Tic Disorders can range from mild to severe and, in some cases, can be self-injurious, debilitating and markedly reduce quality of life.
While some treatments are available for people with Tourette and other Tic Disorders, approaches to care are inconsistent and medications are often ineffective.
We are excited to support the Association's mission of making life better for all people affected by Tourette and Tic Disorders. With every step we take, we know we will be helping to fund research, foster awareness and provide support programs. But we cannot do it alone. We need your help! Please sponsor Brooks and us by making a donation on my fundraising page to support this amazing cause!
You can make a difference! Thank you for your support!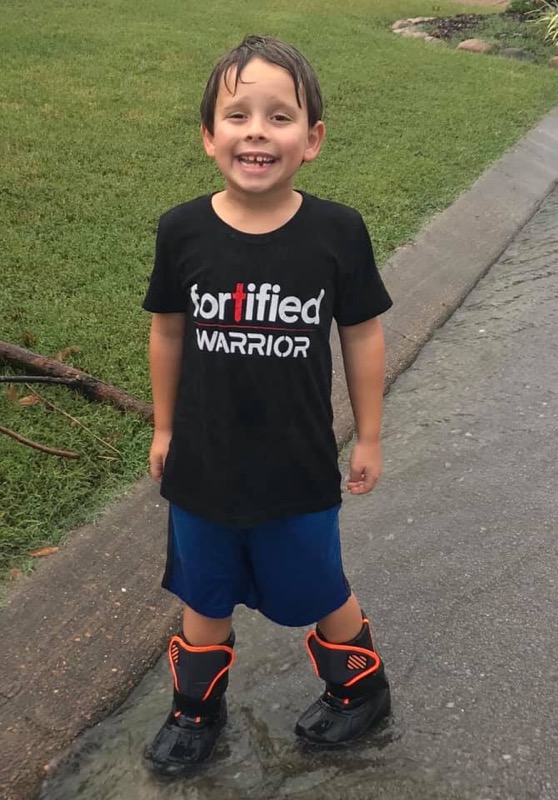 ---